After a long delay, it's finally time to jump into your clown suits. Final Fantasy XIV's All Saints' Wake has been a regular event over the years, but the last one happened back in 2019.
All Saints' Wake is a Halloween-based event in FFXIV that was supposed to occur during Halloween month, October, but due to the much-awaited release of the Endwalker expansion, it was postponed. The Christmas/New year celebration pushed it further to January. Nonetheless, the wait is over now. All Saints' Wake is all set to release this week.
FFXIV All Saints' Wake Release Date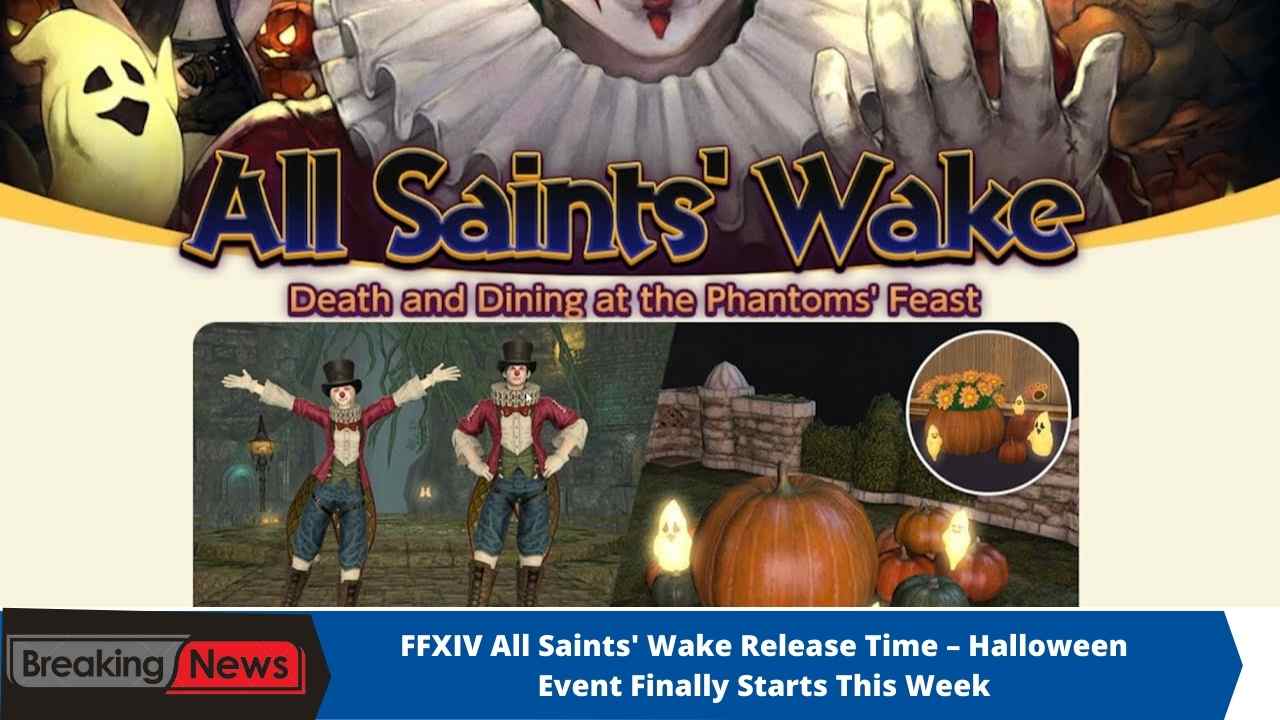 FFXIV All Saints' Wake will commence on January 20 at 12:00AM PST / 3AM EST / 8AM GMT / 9AM CEST, and will conclude on February 2 at 6:59AM PST / 9:59AM EST / 2:59PM GMT / 3:59PM CEST. All Saints' Wake is a seasonal event that belongs to the 1.0 version of FFXIV. The first version of this haunted game arrived in 2011 with a quest called "Ware Winged Fiends."
After that, in 2013, it returned as "A Realm Reborn", featuring a new story and numerous new rewards in addition to the previous ones. Since then, it had returned almost every year until 2020, when it was replaced with another Make It Rain event. Now players can partake in the frightful festivities once again. "Death and Dining at the Phantom's Feast" year's event is themed.
About The Event
The official page of FFXIV says that the players must first complete "It's Probably Pirates", which is a level 15 quest initiated by talking to Banderon in Limsa Lominsa Upper Decks (X: 11.6, Y: 11.1). To participate in the event, players should speak to the Adventurer's Guild Investigator in Old Gridania (a tall, purple-haired Elezen in a black cloak) at (X:10.4, Y:8.4) near the Amphitheatre Aetheryte. After that, you can take on the first All Saints' Wake quest called "All Clowns' Wake," followed by "A Feast to Remember." 
FFXIV All Saints' Wake Rewards
The event has a number of spooky rewards this time, including that eerie clown outfit. That's right; FFXIV has added a new clown costume this time. Players will soon be able to access a range of clown-themed costume pieces, face painting, and even haunted pumpkins for their in-game home. You can claim rewards by completing the quests and activities of the event. The rewards include-
Clown's outfit- A ghostly costume that will give chills down your spine. The clown's armour includes a hat, a top, clown's short gloves, clown's bottoms and a pair of boots.

Modern Cosmetics- Clowning Around- These miscellaneous items will help you paint yourself into clowns.

Haunted Pumpkin Set- A set of differently sized and coloured pumpkins for outdoor furnishing

Pumpkin Flower Vase- A large pumpkin vase for the tabletop with mysterious flowers and little ghosts.
The official page has also notified that certain items available during previous iterations of the event can be obtained via the All Saints' Wake vendor. Past iterations have rewarded fans with gear themed after iconic Halloween staples like pumpkins, spirits, witches, vampires, and werewolves. Upon completion, players will be placed in "The Winners' Club" as a token of appreciation.
Rise of the Third Power: We Have Exciting Information About Release Date!
January is the new spooky month, and All Saints' Wake, the haunted extravaganza, is just around the corner. The event is welcoming new participants this time, and the event will be a blast for those who aren't scared of ghosts and clowns. So turn on your mischievous mood and get ready with your bizarre outfits to participate in this great Continental Circus.