Social media videos capture the moment a mechanical dragon at Disneyland in Anaheim, California, caught fire. Near the conclusion of Saturday night's second performance of Fantasmic!, a fire started. Every night, the show is shown twice, at 9 p.m. and 10.30 p.m.
The dragon caught fire during the last performance of Fantasmic at Disneyland Park on Saturday night. The fire was put out swiftly by Anaheim Fire & Rescue, a Disneyland representative told KTLA. The show's cast, according to the source, was safely ejected from Tom Sawyer Island, where it is being staged.
Disneyland's Fantasmic show got cancelled near the end. The dragon's head caught on fire as everyone ran away through the nearest exits.#Fantasmic #Disneyland pic.twitter.com/m16H4BP3Qo

— Pablo Jet Silva (@PabloJetSilva_) April 23, 2023
"Attractions near the island were safely cleared of any visitors due to smoke and wind, and the cause of the fire is still under investigation at this time." According to the Anaheim Fire Department, no injuries were recorded, according to KABC. Visitors to the theme park recorded videos of the 45-foot-tall dragon's face on fire before it spread to the rest of its body.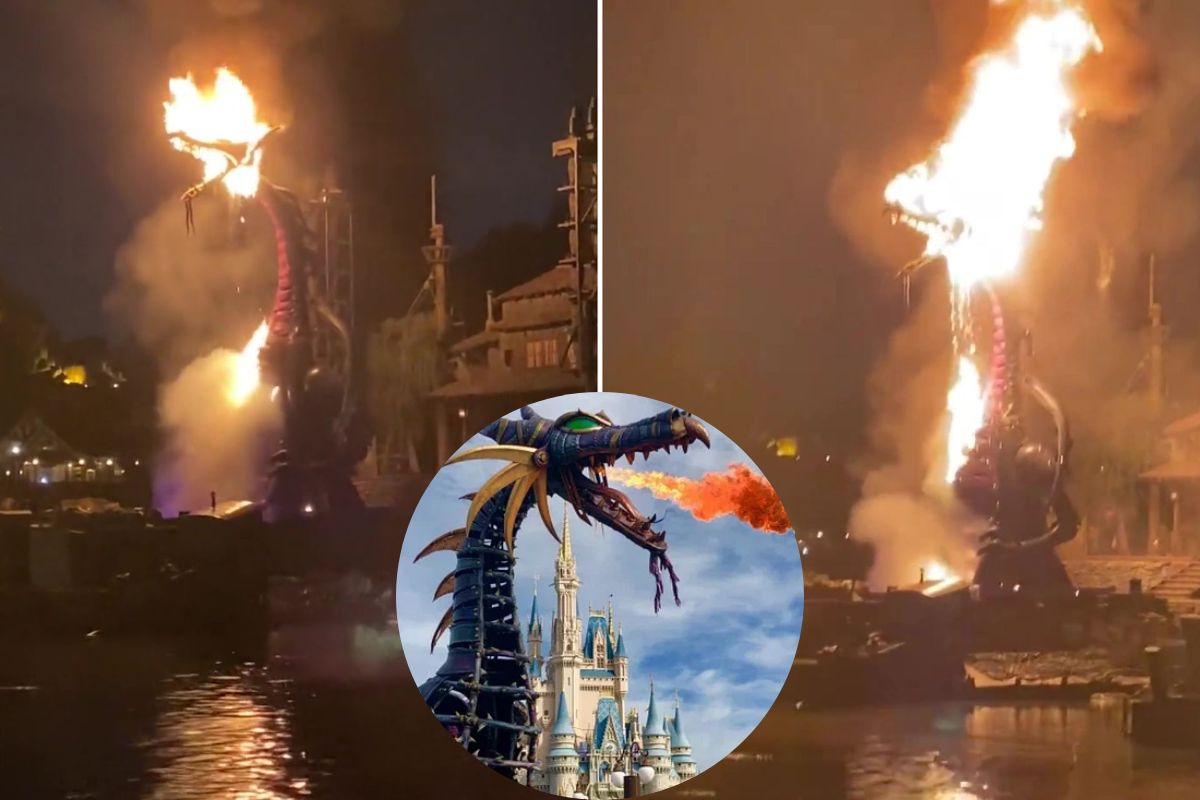 The announcement that "this performance of Fantasmic! cannot continue due to unforeseen circumstances" can be heard over a loudspeaker. We sincerely regret any inconvenience this may have caused and wish you a wonderful remainder of your evening at Disneyland. Near the conclusion, Disney's Fantasmic show was canceled. Everyone fled through the closest exits when the dragon's head caught fire, according to a tweet that included a video.
Moments before the whole dragon caught on fire 🔥 😬 #DisneyOnFire #disneyland #Fantasmic pic.twitter.com/aWkoqHmLUG

— MR.B1ZZ.eth (@LearnThisBiz) April 23, 2023
When the fire started, Ryan Laux, a video producer and season pass holder who had been watching the show nearby Tom Sawyer stand, estimated that roughly 1,000 people had gathered there to see the performance. "It was a huge, enormous fireball. Then, he told the Los Angeles Times, "They started pushing people out."
You can also see the most recent news below:
"It shocked me. The crowd has stopped moving. The crowd is crammed in like sardines, he said. "We saw some small explosions coming out of the head, and then, all of a sudden, the whole dragon was just engulfed," Elaine Gilmer, a mother who was at the park with her daughter, told ABC News.
See the latest news below:
"And then, all of a sudden, the worker started coming around escorting everybody out for safety." Fantasmic! is a stunning live performance with special effects and fireworks that Disneyland describes as featuring "daring heroes and epic villains doing battle on a grand scale." In the film's climax, Mickey Mouse battles Maleficent, who appears as a fire-breathing dragon.
Stay Connected With newscatchy.com