This year, Nintendo is making a sequel to Wii's biggest hits, Wii Sports, with an all-new game named Nintendo Switch Sports. The sequel of this game will include sports like bowling and tennis, both of them being popular Wii Sports activities.
New games such as badminton, chambara which is similar to Wii Sports Resort's swordplay mode, soccer, and badminton will be released on the platform. Nintendo expresses that a future update to Nintendo Switch Sports coming this fall will also add Golf to the Switch game.
Nintendo Switch Sports will feature motion-control activities, using the Joy-Con controllers as its original release.
Revealed during the company's most current Direct live stream, Nintendo Switch Sports will make full use of JoyCon's motion controllers to get players back to the golden days of the Wii. Enthusiasts of the original series can look forward to returning activities such as Bowling, Tennis, and Chambara, more commonly referred to as Fencing. Beyond these classic games, Switch Sports also includes three new games: Badminton, Volleyball, and Soccer. Nintendo also guaranteed that Golf would be added in a free update this fall in the latest games.
Bayonetta 3 Star Hideki Kamiya Gave Hope Fans That They Are Working Hard on the Upcoming Season
Nintendo Switch Sports Gameplay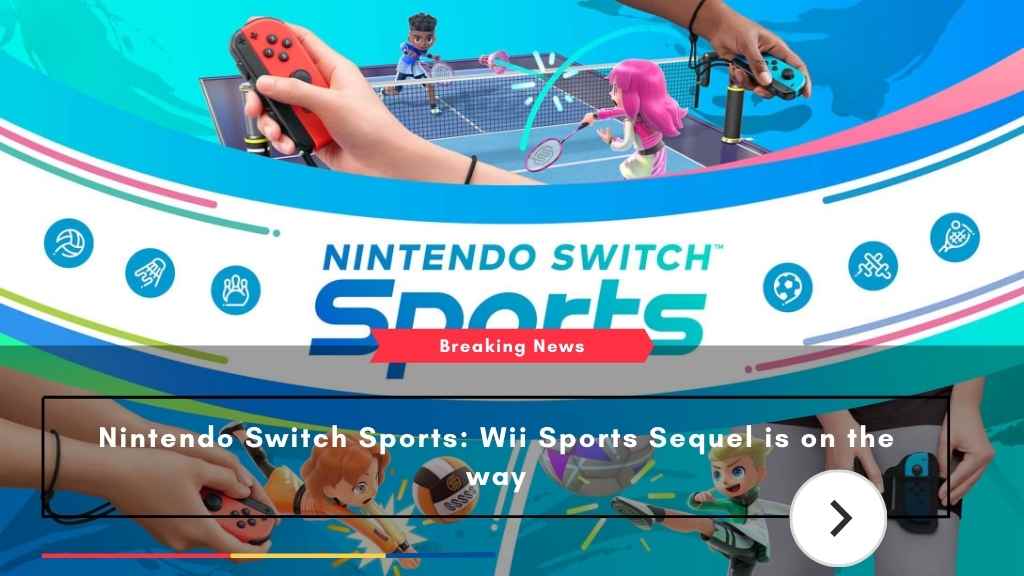 Like the original Wii Sports released in 2006, players will need to swing their Joycons to interact within the game. This can be like smashing a tennis ball with a virtual racket or kicking a ball thanks to a leg strap included with the physical release of Switch Sports. The trailer also indicates that the Wii's iconic Mii avatars will not be replaced or come back for this new instalment. However, it still looks like custom character models are still quite a possibility.
Switch Sports can be played either in solo mode or with your in-person friends in terms of multiplayer. While online games will undoubtedly remain an option, Nintendo confirmed that these would initially be determined to random matchmaking, meaning gamers and those who won't be able to play with their friends at launch. To verify that Switch Sports can handle what may be a heavy server load, the publisher has announced that it will be hosting an online playtest on Feb. 18-20. Fans looking to bat out some digital balls around a court will require a Nintendo Switch Online subscription to access this trial run.
Nintendo Switch Sports Release Date
Nintendo Switch Sports is all set to release on April 29, 2022.
Nintendo Switch Sports Price
Nintendo announced Nintendo Switch Sports is launching on April 29, 2022, and this new entry in the franchise will release with an MSRP of $39.99.
Wii Sports is now widely considered a modern classic by many gamers since its release in 2006, acting as a fun and accessible showcase of a console that initially confused long-time Nintendo fans. Bundled in with the Wii itself, players could use their Wiimote to experience five unique sports, including Tennis, Boxing, Golf, Baseball, and Bowling.
At launch, Wii Sports was widely praised by fans and critics, with many reviewers commenting that the motion-controlled gameplay was surprisingly intuitive and accurate. In 2009, Nintendo unleashed a sequel titled Wii Sports Resort which added new activities and a physical peripheral comprehended as the WiiMotion Plus, allowing for more precise movements.
Nintendo Switch Sports is coming to Switch on April 29 and will feature local and online multiplayer. Nintendo intends to hold an online beta test for the game Feb. 18-20, Nintendo Switch Online subscribers can participate in. In a debut trailer for the game, Nintendo conducted a Survival Bowling mode, playing up to 16 players.