The Disney Plus series Obi-Wan Kenobi will now be available to stream on May 25, announced Wednesday. The series will witness Ewan McGregor reprise his role after playing the iconic character of Jedi across the prequel trilogy between the years 1999 and 2005. Joining McGregor will be Hayden Christensen, who's playing the role of Anakin Skywalker after his transformation into Darth Vader, and series newcomers Moses Ingram and Kumali Nanjiani.
Beyond its cast, plot details on Obi-Wan Kenobi have been relatively thin. We know it will be set roughly 10 years after the occasions of Star Wars: Episode III — Revenge of the Sith, and we will see Obi-Wan watching over a young Luke Skywalker strolling on his home planet that is named Tatooine.
The Marvelous Mrs. Maisel Season 4 Release Date, Cast, Plot, and Trailer
Obi-Wan Kenobi is an intrinsic element and character of a growing collection of live-action Star Wars shows produced for Disney's streaming service. They all kicked off with 2019's The Mandalorian, followed by The Book of Boba Fett in late 2021.
Obi-Wan Kenobi Release Date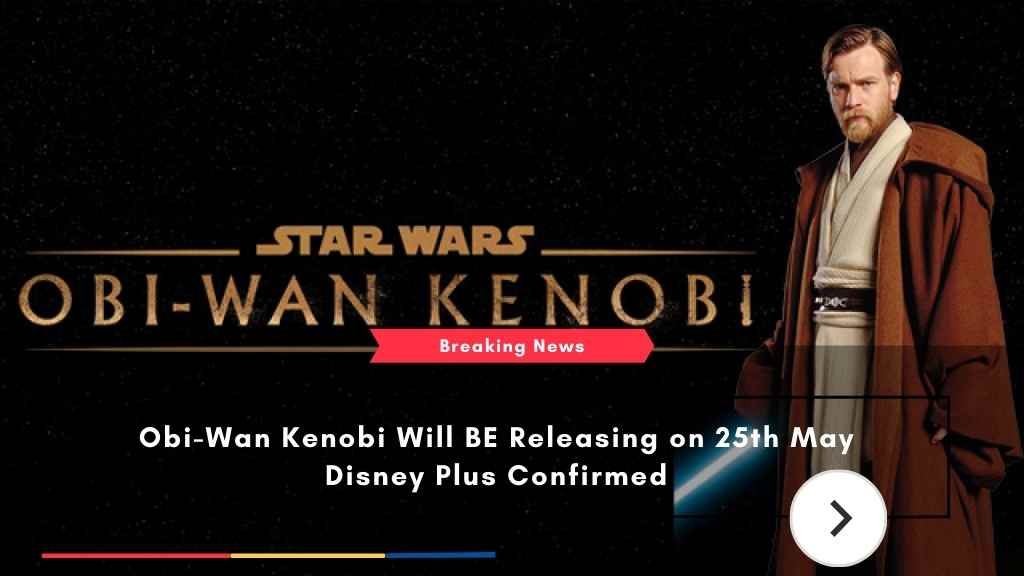 Announced across various social media channels on February 9, Wednesday, Disney and Lucasfilm confirmed that the Obi-Wan Kenobi TV series would land on Disney Plus on Wednesday, May 25, 2022.
The release date reveals accompanied by a wonderful-looking poster, which shows Obi-Wan striding across the dunes of Tatooine, the legendary Star Wars planet.
Obi-Wan Kenobi Plot
The new show will now see Ewan McGregor reprise his role as the legendary Jedi, set a decade after Episode III: The Revenge of the Sith. The six-part series will follow the life of Obi-Wan as he continues to struggle with his most significant defeat, which is the destruction of the Jedi Order and his inability to save former Padawan Anakin Skywalker who has unfortunately turned to the Dark Side and assumed the iconic role of Darth Vader.
Obi-Wan Kenobi Trailer
While it's a relief to finally learn when Obi-Wan's TV show will debut on Disney Plus, there is an additional trailer that we are yet waiting for.
Obi-Wan Kenobi Cast
The Obi-Wan Kenobi series will witness Hayden Christensen's return as Darth Vader alongside a cast with Moses Ingram, Joel Edgerton, Bonnie Piesse, Kumail Nanjiani, Indira Varma, Rupert Friend, O'Shea Jackson Jr., Sung Kang, Simone Kessell, and also notable character  Benny Safdie.
It's possible to get a look at the Obi-Wan Kenobi series during the half-time show of Super Bowl LVI. The hype and drama surrounding The Book of Boba Fett will have passed down by then, and Star Wars fans will be eager to see the first footage from Obi-Wan's show that might be broadcasted to the viewers.
Fans on numerous Star Wars-related social media pages believe that a trailer will be debuted during the Super Bowl, and we are all inclined to agree. With so many eyes glued to TV screens across the US and globally, it's the perfect time to guide off the series' first teaser.
We are only three and a half months out from Obi-Wan's first episode as well, so we need to see something soon to sharpen our appetite. Give us a first look at the Star Wars series, alongside an official trailer for Amazon's Lord of the Rings TV show, and sci-fi and fantasy fans will eagerly be anticipating its likely release this year. 
Keep looking out for new updates and a fresh new trailer to get more information about the series.