To "enable even more children to see themselves in Barbie," Mattel unveiled the first Barbie doll to feature a person with Down syndrome. "We are proud to introduce a Barbie doll with Down syndrome to better reflect the world around us and further our commitment to celebrating inclusion through play," Lisa McKnight, executive vice president and global head of Barbie & Dolls at Mattel, said in a statement.
Barbie from Mattel has already come under fire for setting up children who play with the doll with unattainable aesthetic standards. The business has made an effort to break from this reputation in recent years by providing a wider variety of dolls. Barbie and Ken dolls with wheelchairs, vitiligo, hearing aids, and prosthetic limbs were the first to be produced.
The 2023 Fashionistas collection, which features a doll with Down syndrome, was the "most diverse doll line" the firm has ever produced. All children should be able to recognize themselves in Barbie, but we also want to encourage kids to play with dolls that don't look like them.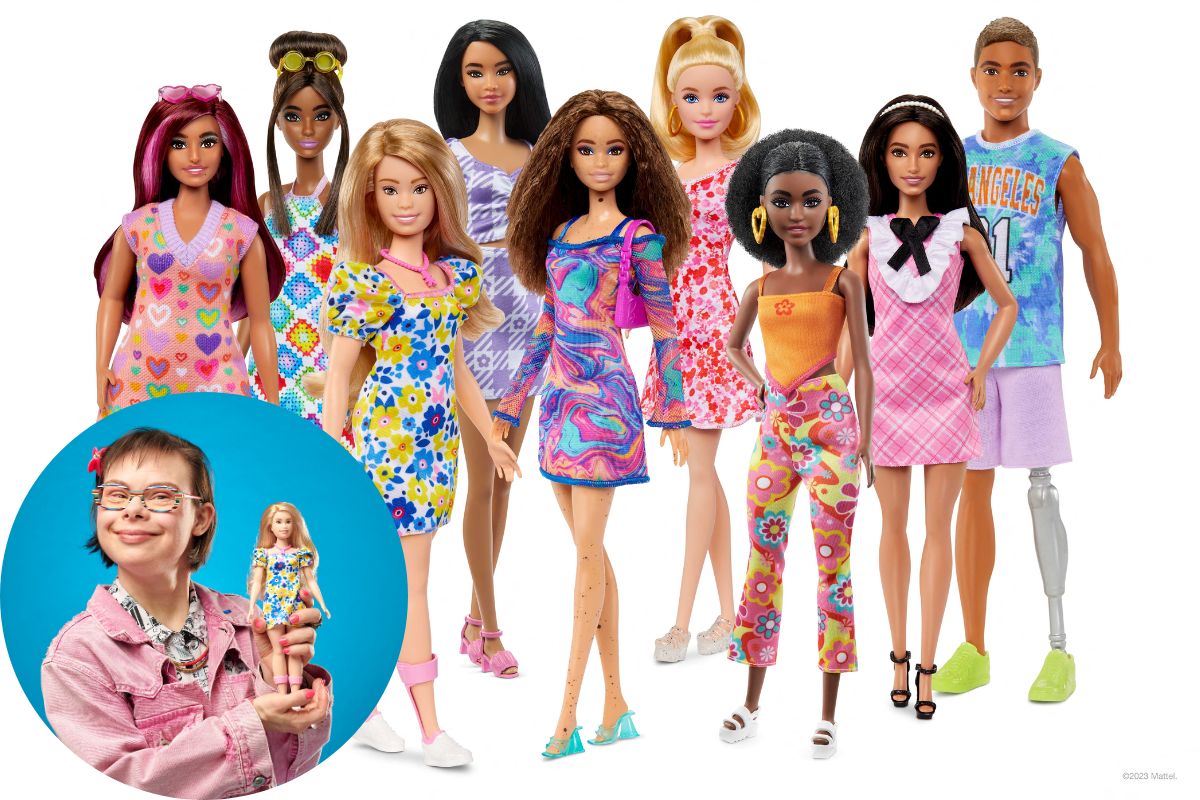 Doll play that is independent of a child's personal experience can foster understanding and increase empathy, which promotes a more welcoming society, according to McKnight. To correctly portray a person with Down syndrome, Barbie collaborated with the National Down Syndrome Society.
The NDSS stated in their release that this involved giving the doll's body a shorter frame and longer torso as well as a round face with smaller ears and almond-shaped, slanted eyes. According to NDSS, the doll is wearing yellow and blue clothing with butterflies, which are all signs of Down syndrome awareness. Even the pink necklace worn by the doll has significance.
You can also see the most recent news below:
The three upward chevrons on the symbol are intended to symbolize "the three copies of the 21st chromosome, which is the genetic material that causes the characteristics associated with Down syndrome," according to the group. The statement from the organization quoted NDSS President and CEO Kandi Pickard as saying, "This Barbie serves as a reminder that we should never underestimate the power of representation.
We are happy about the development of inclusion at this particular time. In a collaboration with Mattel, British model Ellie Goldstein, who has Down syndrome, spoke on Instagram about how significant it was for her to see the doll. "When I first saw the doll, I was quite moved and proud.  The fact that kids will be able to play with the doll and discover that everyone is unique means a lot to me.
Additionally, you can view the most recent news below:
She commented on Instagram, "I am honoured that Barbie chose me to introduce the dolls to the world. "Diversity is important because people need to see more people like me in the world and not just in isolated places, and Barbie will make this happen," one person said. This summer and fall, major retailers will sell the Down syndrome Barbie doll for $10.99.
Stay Connected With newscatchy.com