Danish professional ice hockey goalie Frederik Andersen is now with the NHL's Carolina Hurricanes. He weighed 230 pounds and was born in Herning, Denmark, on October 2, 1989. He is 6 feet 4 inches tall. Andersen was formerly a player for the Toronto Maple Leafs and the Anaheim Ducks.
He joined Denmark's national ice hockey team in 2008 and started playing professionally. The Carolina Hurricanes selected Frederik Andersen in the seventh round of the 2010 NHL Entry Draft, marking the beginning of his NHL career.
He re-entered the draft in 2012, though, and was selected by the Anaheim Ducks in the third round after declining to sign with the Hurricanes. He played for the Ducks in the early years of his NHL career. Andersen has made a name for himself in the NHL as a crucial player and is well-known for his goalkeeping abilities.
Frederik Andersen Injury
The 34-year-old Carolina Hurricanes goalie Frederik Andersen will miss an indeterminate amount of time from the game because of a blood clotting-related health problem. Since playing against the New York Rangers on November 2, he has not been on the ice.
An update on Freddie Andersen pic.twitter.com/UDQPHmlEt1

— Carolina Hurricanes (@Canes) November 6, 2023
With a record of four wins and one loss in the games he played this season, he had a 2.87 goals-against average and a.894 save percentage. Although there isn't a specific date for Frederik Andersen's comeback, the Hurricanes' general manager, Don Waddell, expressed optimism about his complete recovery.
The Hurricanes are bringing in 38-year-old goalie Jaroslav Halak to try out as a free agent in response to Andersen's absence. To further strengthen their goaltending options, they also brought up American Hockey League goalkeeper Pyotr Kochetkov.
The Hurricanes have won four of their previous five games, demonstrating their recent success. However, Andersen's health condition has forced the team to make these roster adjustments in order to guarantee they have enough covering at the goaltender position.
What Happened to Frederik Andersen?
The goalie for the Carolina Hurricanes, Frederik Andersen, is out for the time being because of a blood clotting condition. His last game was on November 2, 2023. There is no known timeline for his return to the ice, nor are the details of the blood clotting problem known.
Frederik Andersen is probably dealing with an injury because there is no other explanation for how awful he has been over the last few weeks.

— Sergei (@berezin_goal) January 19, 2020
To make sure their goaltender needs are met while Andersen is out, the Hurricanes are taking preventative precautions by calling up Pyotr Kochetkov from the AHL and inviting Jaroslav Halak for a free-agent tryout.
Frederik Andersen Career
Danish ice hockey goalkeeper Frederik Andersen has had an incredible career. He began his career in Europe, where he played for a number of teams, such as Frölunda HC and the Frederikshavn White Hawks. He set a record for shutouts and led the league in goals against average (GAA) and save percentage while he was in Europe.
He joined the Anaheim Ducks in 2013 and quickly established himself as their primary backup goalie. 2014 saw Andersen win his first Stanley Cup playoff match. In 2016, he was traded to the Toronto Maple Leafs, which changed the course of his career.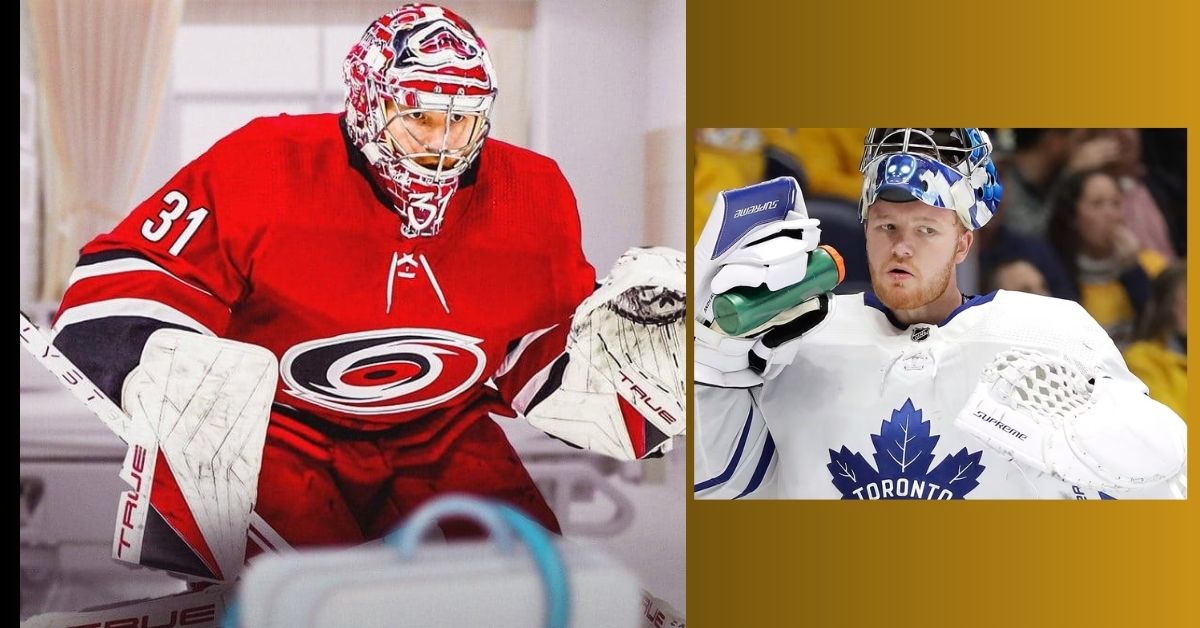 He performed admirably and brought the Leafs back to the postseason after a protracted absence. He accomplished several personal goals over the years, one of which was breaking the franchise record for purposes by a Leafs goalie. But he never made it to the playoffs, and the Boston Bruins defeated the Leafs.
Andersen signed with the Carolina Hurricanes in 2021, and he had an outstanding debut, winning eight of his team's games. The William M. Jennings Trophy was even awarded to him. Sadly, in November 2023, a blood clotting problem that was found during medical tests put an end to his career, forcing him to sit out the rest of it indefinitely. In spite of this setback, Andersen has had a successful hockey career entire of contributions to his teams.
Want to read more stories about the health of celebrities? We've featured a few of the best articles. You could look at the Posts:
Frederik Andersen's Net Worth
Frederik Andersen has amassed a considerable amount of money over his hockey career. He has made about $41,466,463, which, after being adjusted for inflation to the current value, comes to almost $48,498,826. In terms of career earnings, this places him 335th among NHL players.
With a $3,100,000 contract in place right now, his estimated net worth for hockey is $44,566,463. Andersen's financial success is a direct result of his accomplishments in professional hockey, where he has established his value in the sport both on and off the ice.
The knowledge we have provided should be sufficient regarding your needs, and we hope it is. Please Give us your views in the comment section below if you are satisfied with this article. We respect your opinion, and your reviews help us improve our content and we give better serve our readers.