Atlanta-based rapper 2 Chainz has announced the release date for his seventh studio album, Dope Don't Sell Itself, I The L.P., released on February 4 via Def Jam. The rapper also released his latest single, "Pop Music," which features Moneybagg Yo and BeatKing. 2 Chainz took to social media to confirm that his new album is all set to release and drop later this month. This news has surprised all the rapper fans, and we cannot wait for it to release and hit the charts.
"Hey, how u been!?" Chainz questioned his fans on Twitter and Instagram. "It has been a min, I know, but I'm back with something new & exotic. You know I ain't been around this long without being a thinker, and a constant student & teacher of the game and my album' DOPE DONT SELL ITSELF' drops this month & single this week."
The Dope Don't Sell Itself announcement revealed itself after Tity Boi dropped "Mortgage Free" in December, which officially ushered in the end of an era for Chainz.
Donda 2 Kanye West New Album 2022: Release Date, Tracklist, Features & More
"This will be my last trap album, enjoy," the 44-year-old penned on Twitter in July.
The announcement comes following 2 Chainz's new single, "Pop Music," featuring MoneyBagg Yo and BeatKing. The Grammy-award-winning rapper kicked off 2022 with his first single from Dope. Don't Sell Itself, "Million Dollars Worth of Game," featuring 42 Dugg.
Dope Don't Sell Itself Release Date:
Grammy Award-winning and Multi-Platinum recipient rapper 2 Chainz has announced that his new album, Dope Don't Sell Itself, will be released globally on February 4.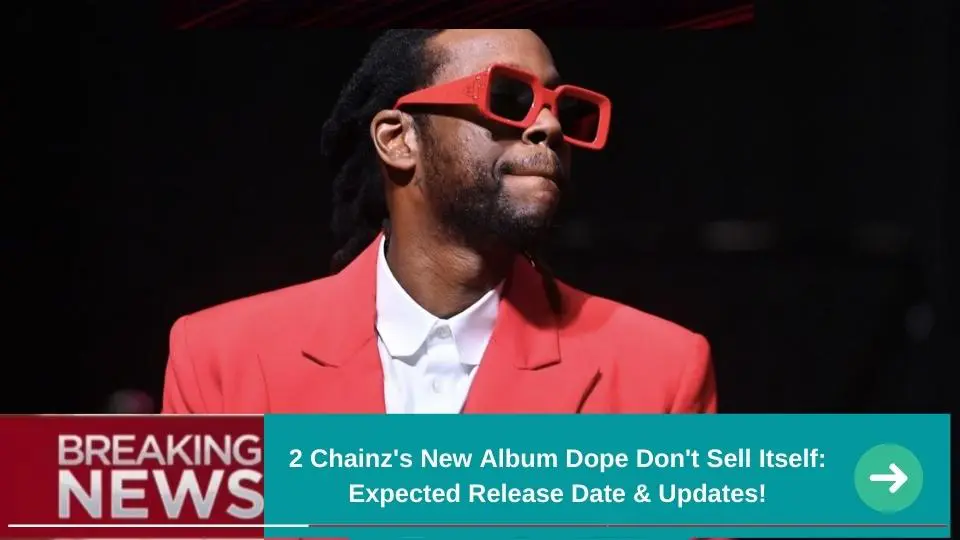 2 Chainz shows off some of his world-famous wordplays and rapping skills in the new track of his album. We can see him rapping along the beats and extremely fun and flashy video content with several female co-stars.
2 Chainz also recently embarked on the T.R.U. Religion Tenth Anniversary tour to celebrate and honour his D.J. Drama project.
The tour dedicated to 2 Chainz was sponsored by True Religion and featured stops in Chicago, Myrtle Beach, Charlotte, Atlanta, and Silver Spring, Maryland.
'Dope Don't Sell Itself' will mark the seventh studio album from 2 Chainz, following 2020's 'So Help Me God!'. In 2021, 2 Chainz had released' T.R.U. Religion, a special anniversary edition of his 2012 album 'Based on a T.R.U. Story' was followed by the mixtape 'GOATED: 2 Chainz', released on December 17.
Dope Don't Sell Itself Cast:
2 Chainz's latest album named  Dope Doesn't Sell Itself features Moneybagg Yo and BeatKing accompanied by a flashy and trendy music video that pays homage to the female self. Bound in flashy colours and sick beats, the track is set to be a favourite for all rap fans. Several other artists have also been rumoured to play a part in the music tracks.
BTS' Jimmin Merch: Where to Buy and Release Date Explored [Latest Updates]
In the past week, 2 Chainz kickstarted the campaign with the first single track of the album, 'Million Dollars Worth of Game, where he partnered with 42 Dugg over an Indian-sounding track. Today he has returned with the follow-up called 'Pop Music,' where he stays in his trap lane again despite the song's title and is extraordinarily catchy.
Exclusive Dope Don't Sell Itself merch, customizable and fan-favourite lithographs, and limited edition autographed C.D.s are now available in the 2 Chainz official shop, with all items that plan to ship upon the release of the album. This time 2 Chainz supports Houston Producer Beatking and Moneybagg Yo, and we certainly hope it tops the charts worldwide.