We are aware that She-Hulk will arrive on Disney Plus in 2022. But the streaming service has not yet provided a particular release date for the movie. Earlier speculations suggested it would take place in August. But a recent leak from the official Disney Plus UK site has provided us with a specific date: August 17, 2022.
In this blog post, the release date, which has not yet been disclosed to the public, is mentioned with other Marvel series from the past, the present, and the future (at least at the time of this writing). Moon Knight is absent from the page, which is a peculiar detail. Nonetheless, as this is an official website, the month of August should be given some credence, provided that there aren't any last-minute adjustments. In addition, the only upcoming series that are listed are "Secret Invasion" and "Ironheart." Even though we are aware of the production of other series. Such as a separate Echo series and a Wakanda-centered programme.
Read More:- Jack Ryan season 3 Release Date Confirmation on Prime Video
Synopsis
As for the character of She-Hulk herself, we also have the following official synopsis of the series. Which more or less follows the format of the comics: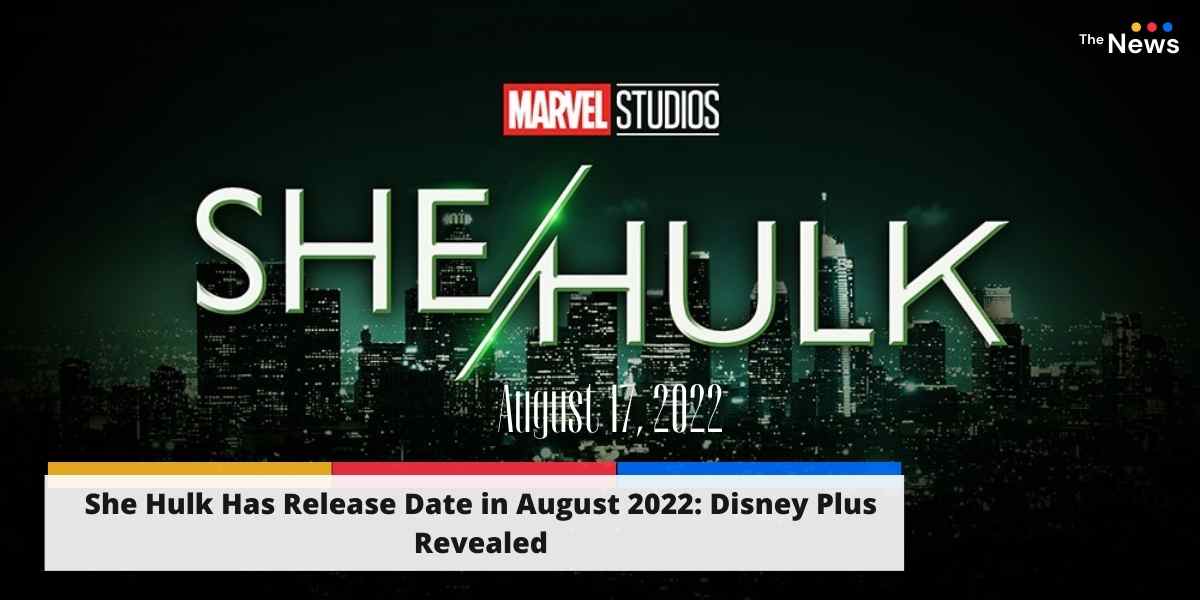 This new comedy series sees Bruce Banner help his cousin, Jennifer Walters. When she needs an emergency blood transfusion and guess what? She receives his powers too. Tatiana Maslany will play Jennifer, who is a lawyer specialising in superhuman-oriented legal cases. Mark Ruffalo is back as the Hulk alongside Tim Roth, who plays the Abomination.
Even though Mark Ruffalo was chosen to play Bruce Banner, I didn't realise that Tim Roth would be reprising his role as the Abomination from Ed Norton's Hulk movie, which is technically considered to be a part of the Marvel Cinematic Universe (MCU), even though I'm pretty sure the announcement for this already happened months ago. From what I understand, Jameela Jamil, best known for her role in "The Good Place," also appears in this series and portrays a villainous character.
She-Hulk Trailer
In the promotional materials for Disney Plus, we have not been shown much more than brief snippets of She-Hulk. They are currently concentrating on Ms Marvel, which has a plethora of trailers and will be released on June 8th. It will run concurrently with Obi-Wan, meaning that Disney Plus will simultaneously broadcast a high-profile Marvel series and a Star Wars series. As Disney Plus increases the amount of material it produces, you may anticipate seeing more of this shortly. We had come a long way since the year when the sole new Star Wars movie was The Mandalorian.
Read More:- Rick and Morty Season 6 is in Production Netflix Confirmed
I would give anything to glimpse Tatiana Maslany as a green version of herself in her new guise. Since Tatiana Maslany is not precisely a massively tall and jacked actress, I can only assume that computer-generated imagery (CG) and motion capture will be involved, just like with Mark Ruffalo's Hulk. Even though She-Hulk is typically not quite as monstrously large as Bruce Banner's Hulk in most cases.
She-Hulk Release Date
She-Hulk will release on August 17, 2022, which is only three months away. So I'm hoping that it won't be long until we hear more.