Oscar-winning actors Julia Roberts and Sean Pen have joined forces for Starz's latest drama is named Gaslit. The highly foreseen show is based on the first season of Slate's Slow Burn podcast and will see the pair bring to life the Watergate Scandal that plagued Richard Nixon's presidency but with quite a modern twist.
Keep reading as we have everything you need to know about the series, including the release date, plot, cast and trailer, and more.
Gaslit Release Date
Gaslit will officially premiere on Sunday, April 24 at 9 p.m. Eastern Time on Starz and Starz Play.
You can sign up to Starzplay to stream the series through a paid subscription.
Gaslit Cast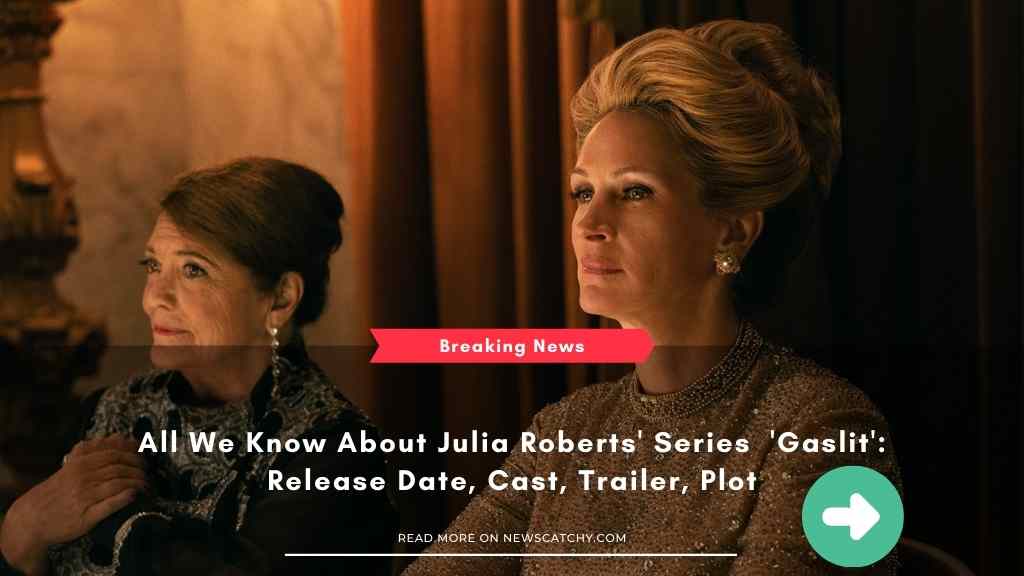 Award-winning actors Sean Penn and Julia Roberts will lead the cast of Gaslit on Starzplay.
Milk's Penn will depict the role of Nixon's attorney general, John Mitchell, and best friend in Gaslit.
Julia Roberts takes on the role of Martha Mitchell, John's wife and a socialite who hails from Arkansas.
Also starring in the cast of Gaslit is Downton Abbey's Dan Stevens in the role of John Dean, GLOW's Betty Gilpin as Mo Dean, Homecoming's Shea Whigham as G. Gordon Liddy, and many more.
Fargo's Allison Tolman will play the role of famous journalist Winnie McLendon.
Gaslit Plot
Gaslit is an adaptation of Slate's Slow Burn: Watergate podcast and will investigate several untold stories from inside the White House about the Watergate scandal of 1974, which brought down Nixon's presidency.
The true story will be told primarily from the perspective and point of view of Martha Mitchell (recreated by Julia Roberts), the wife of Nixon's attorney general, John Mitchell, who is represented in her official character bio as "a celebrity Arkansan socialite" and a "big character with an even bigger mouth."
The Watergate scandal is the name that is given to a major political scandal involving the administration of U.S. President Richard Nixon from 1972 to 1974, which originated from the cover-ups of its involvement in the June 1972 break-in of the Democratic National Committee headquarters at Washington, D.C. Watergate Hotel complex.
As per the official synopsis, the series is quite a modern take on Watergate that sheds its light on the untold tales and forgotten characters of the scandal, all from Nixon's incompetent and opportunistic subordinates to the deranged fanatics aiding and abetting their crimes to the tragic whistleblowers who would eventually bring the whole rotten enterprise crashing down to bits and pieces.
Christina Davis, who is the president of original programming for Starz, has commented in a statement, "In 'Gaslit,' we not only have the chance to tell an incredible untold story in bringing Martha Mitchell's historic role in Watergate to the fore, but we are also incredibly lucky to have a dream cast including Julia and Sean and the best creative team and partners we could have ever asked for."
Gaslit Trailer
A thrilling trailer has been to get audiences in suspense for Gaslit's premiere.
The trailer starts with a voiceover presenting Martha Mitchell as the "first person to indict the Watergate incident publicly." They then ask, "are you crazy?"
Roberts and Penn look unrecognizable as Martha and John Mitchell in the clip. As the trailer erupts through scenes of panic and paparazzi, a man can be heard stating: "that loud-mouth wife of his is becoming a liability."
The trailer comes to an end with Martha sitting in a courtroom, being interviewed on why she would risk her husband's position, to which she replies: "Because it is the truth."
We certainly cannot wait for the new series to be released ahead of its release in April.