The new season of popular American fantasy streaming television series Carnival Row Season 2 has recently been in the news. Fans are pretty excited that Amazon had announced to renew the series back in 2019, and it was supposed to release in the coming days. However, as much as we hate to break it to you, Carnival Row Season 2 probably would not be available for fans or watchers soon.
Read on to learn more about when this underrated gem of a show will come out and what we can expect?
Carnival Row Season 2 Release Date
Carnival Row Season 2 was initially supposed to come out in February 2022 on Amazon Prime. The release, however, has been delayed, and we do not know when it will come out. There is no official release date for Season 2, which disheartened fans.
The Last Kingdom Season 5: Lady Aelswith Teased the Fans With a Release Date
As the series is now reportedly in the stage of post-production, nothing much is being revealed or talked about. We can assume the series will come out by this year in the second half. Keep an eye out for the epic series that might drop towards the end of 2022, unexpectedly surprising you!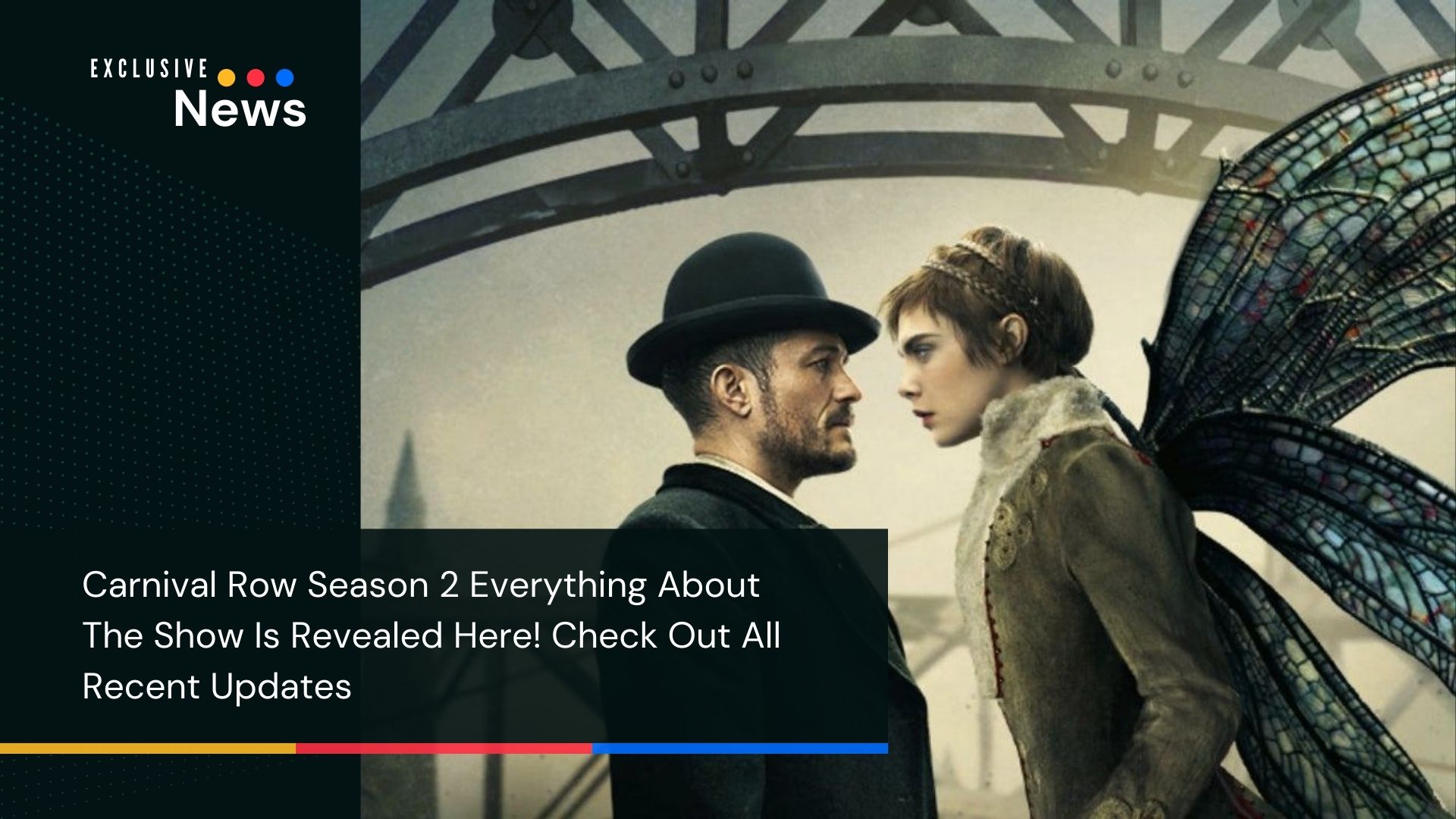 Carnival Row Season 2 Cast
Created by the famed René Echevarria and Travis Beacham, the new Season 2 has created an air of anticipation amongst fans. The cast of the new series is expected to be majorly from the prominent cast members from Carnival Row Season 1.
The expected cast members are namely, Orlando Bloom as Rycroft Philostrate, Cara Delevingne Playing Vignette Stonemoss, Simon McBurney as Runyon Millworthy, David Gyasi as Agreus Astrayon, Tamzin Merchant as Imogen Spurnrose, Andrew Gower as Ezra Spurnrose, Karla Crome as Tourmaline Larou, Arty Froushan as Jonah Breakspear, Caroline Ford as Sophie Longerbane!
On August 27, 2021, Jamie Harris was promoted to the series regular cast for the forthcoming Season 2. this will recommence his role as Sergeant Dombey– the tough cop in this neo-Victorian city. He dislikes the on the rise numbers of foreign fairies and pix. Fans can expect to see him play a more significant role in Season 2. A few reported newcomers, namely Alice Krige, Ariyon Bakare, Maeve Dermody, Jamie Harris, James Beumont, and Waj Ali, will join the series in the Carnival Row Season 2.
Carnival Row Season 2 Plot
Based on, A Killing on Carnival Row by Travis Beacham, Carnival Row Season 2 is set in the aesthetically pleasing mystical lands of The Burgue. Here, both humans and magical faeries live side by side but in hostile conditions.
Carnival Row Season 1 took us into the magical world where tensions are peaking in the city of The Burgue. The new Season 2 might throw more light upon the rising tensions that were worsened by the events in the first season.
As an outcome of Season 1, the magical creatures or fae have been placed in a concentration camp or somewhere that more or less resembles it. Our character Philo bids his fake respect and joins them there. The situations have never been as bad as in the city-state with the new Acting Chancellor, Jonah, who declares war on all non-humans. And now it is mayhem!
 The synopsis of Carnival Row Season 2 will figuratively deal with the fae growing up against their enemies. Here, Philo and Vignette will probably get essential roles to play in the coming revolt.
As the previous showrunner Marc Guggenheim said," Philo will also continue to wrestle with his sense of identity. Even though he's accepted his heritage, that doesn't mean Philo's journey of self-exploration is even close to over."
The Outfit Release Date Pushed Back Release Date by Three weeks
"The trick for Philo is, it's not, unfortunately, as simple as him embracing the fact that he's fae," Guggenheim told EW. "To the fae, he's not fae but a half-blood. So, basically is a man without a country. You know, he's not human enough for the humans, but he's not fae enough for the fae. He kind of exists in this sort of status Twilight Zone. So that's another thing that he'll be wrestling with in season 2."
Outside the crisis spot, the Burgue characters Imogen and Agreus were seen finishing Season 1 by setting sail into a faraway land. This might help take the story further and show us a world beyond snow, fights and hatred.
Carnival Row Season 2 Trailer
There is no official trailer for Carnival Row Season 2 released yet. We can expect one to come out once the release date is finalised and announced. Get ready to dive into the mythical world once again and get the authentic experience of the Carnival series!