We all love a bit of raunchy comedy at times. Animated series might often feel like they are of kids, but what if there was an animated series just for us adults, and it delivers everything from solid punchlines to ballistic puns to under the belt comedy? Well, Roku Tv is here to the rescue! The streaming services have recently announced a new animated adult-comedy series Doomlands Animated this year. What started as a university film project, O'Keefe's Doomlands Animated will be premiered in the upcoming days, and viewers cannot wait!
Doomlands Animated Release Date
Roku announced today that the adult animated show Doomlands Animated would be premiered from January 28, 2022, on the channel across. It will be accessible in Canada, the U.S and the U.K.! It will be Roku's first adult animated series that follows the members of a motile bar as they navigate through the sands of a deserted setting in a post-apocalyptic world.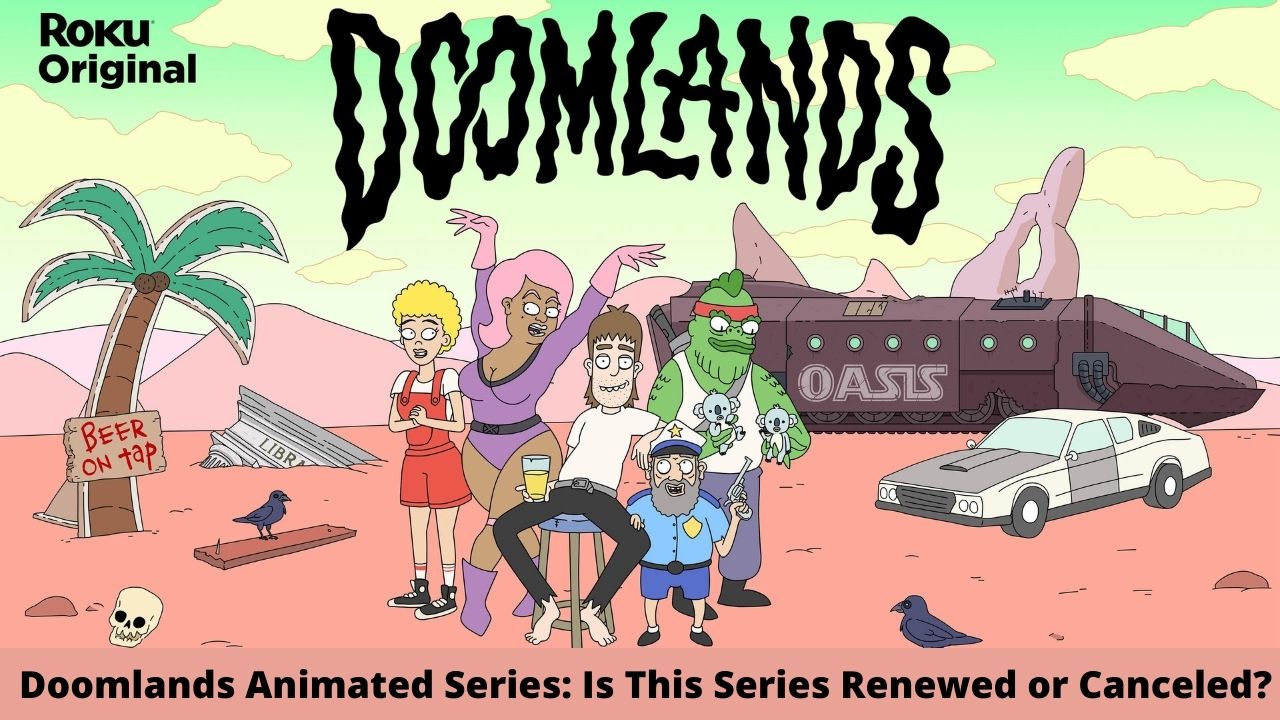 Other viewers might Quibi previously ordered the Doomlands Animated series in April 2020. Later, Roku acquired the series when the company purchased Quibi's content library rights. Doomlands is now set to premiere on The Roku Channel, which is available on the web, iOS and Android devices, Amazon Fire TV, select Samsung TVs next week, and stream for free.
Doomlands Animated Cast
The animated series follows the day-day ventures of the crew of a mobile pub, Danny Doom (by Mark Little) and Lhandi (by Kayla Lorette), as they pave their way and live their lives in a post-apocalyptic wasteland.
Look, Mom produced it! Productions, the show created by Josh O'Keefe as a university film project, eventually caught my eyes and became a crowd-funded project. Lee Porter and Josh O'Keefe have directed Doomlands Animated, and they will co-run this season.
Doomlands Animated Synopsis
The Doomlands Animated series follows the storyline of the infamous Danny Doom and the aspiring bartender, Lhandi. They serve beer across a hell-like wasteland in their mobile pub, The Oasis. Their job leads them to come across head-on with the merciless desert gang and memory-stealing creeps.
They also come across very callous bathroom graffiti. Both live through the day in their lives while trying not to kill each other. The makers have deemed it a post-apocalyptic animated comedy soaked entirely in dust, beer and blood. We can anticipate very harsh and bold themes and top tier comedy as fans are expecting this to blow their minds, and at the same time, chill out and have a fun time.
As of now, there is only a little information about the series, which will be available by next week, but there are images from the Doomlands tease. There are so many odd characters that we might love or hate at The Oasis!
They include robots, anthropomorphic animals, and people, but they are intriguing. By its appearance, the apocalypse has changed Earth's life and made it possible to include all kinds of creatures, from interesting monsters to different beings. At the moment, the only most exciting thing is what is the story behind the eye-patch wearing adorable koalas?
The characters in the show are very diverse, and we see many ethnicities being represented, and we stand a positive change bringing comedy shows always!
The show has already attained fans who seem incredibly excited for the upcoming release with the story to unravel. As the name suggests, see what doom is waiting for the characters in the post-apocalyptic world of beer supremacy.
Apart from this, we can not do much but wait for the eccentric series to be released.
So are you ready for the classic O'Keefe humour as Doomlands Animated strikes your mind?