We all love superheroes, don't we? What is better than the new season of your favourite superhero series releasing? Absolutely nothing! And guess what? They are returning to Gotham City! D.C. has decided to come up with Titans Season 4 in the coming days!
The makers have confirmed that the admired D.C. Comics series has been approved for another season, reportedly under making. Fans seem very excited for the new season as watchers marvelled the past season. So gear up as this superhero drama gets even more eccentric than ever before, and the superheroes take over the enemies with Titans Season 4!
Titans Season 4 Release Date
The Warner Bros produced television series Titans Season 4 is rumoured to be released in 2022 on HBO Max in September –October. As of yet, there is no exact date of release announced by the makers. If there are no hindrances in producing the show, the series will be released by the mentioned date. Apart from this, if the series gets postponed, then it is most likely to come out in 2023.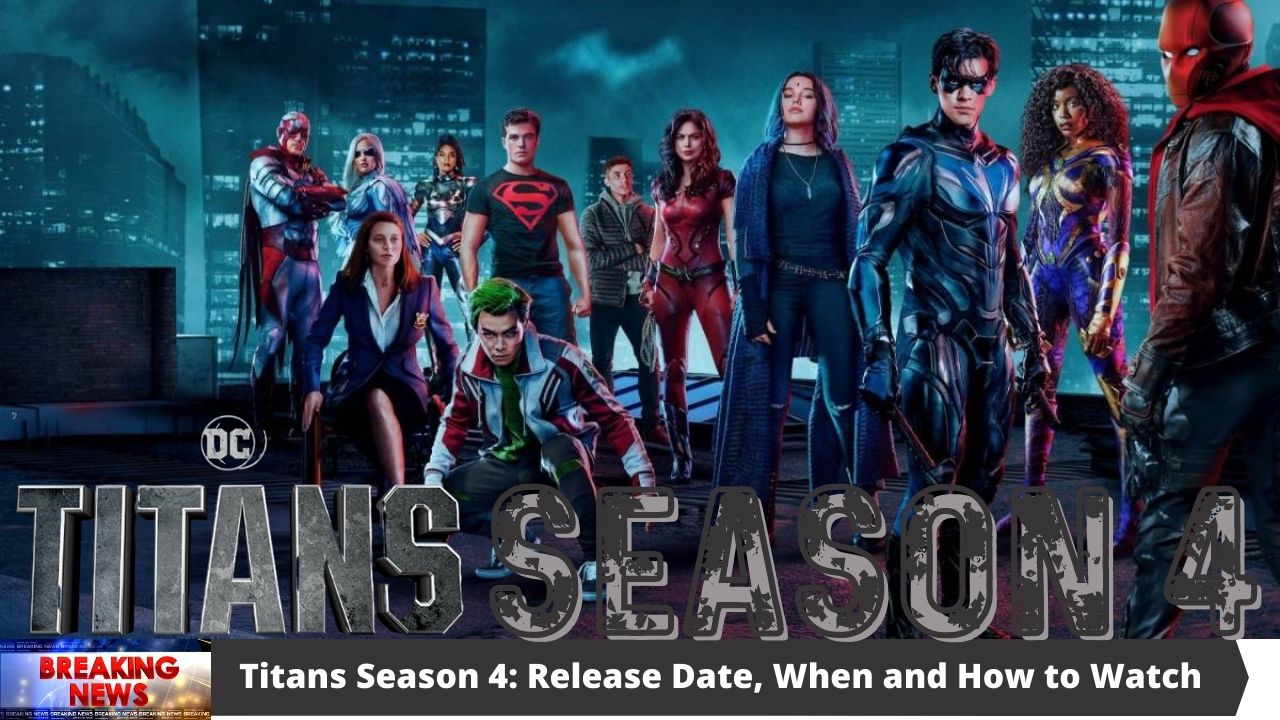 After the show is done airing on HBO Max, the series might be available for viewers outside the U.S.A. through streaming platforms such as Netflix. It has acquired the international rights to Titans starting with season 1 and to all seasons following after. The third season of the superhero series, Titans, was released last August, and fans seem pretty joyful as the news of Titans Season 4 has come in talks.
Titans Season 4 Latest Update
There have been no speculations whatsoever regarding Titans Season 4 regarding the synopsis of the series. A trailer can be expected to be revealed once the show is done, and fans will get to see the brand new challenges that await our Titans.
Titans is a well-liked American superhero television series that streams on HBO Max in countries supporting and on Netflix. The series was created by Akiva Goldsman, Greg Berlanti and Geoff Johns. The Teen Titans-based series portrays a group of young heroes who fight against evil. With superheroes across D.C. Universe, they have come of age and found out where they truly belong. In season three, we
saw situations that had brought our heroes to Gotham City, where they, along with their old friends, fought against the new evil powers.
In the  Purple Rain, titled episode which follows the Titans as they have come together to stop Scarecrow ( played by Vincent Kartheiser), the latter is on a rampage to set off toxic gas bombs across the city. Dick (by Brenton Thwaites), Gar (by Ryan Potter), and Tim (by Jay Lycurgo) set out to Scarecrow's home base at Wayne Manor. At the same time, Kori (by Anna Diop), Rachel (by Teagan Croft), Donna (by Conor Leslie), Conner (Joshua Orpin), and Blackfire (Damaris Lewis) go to the Lazarus Pit using its water to cure the poisoned folks. The Titans are also seen getting some help from random characters. With the G.C.P.D. in shambles, Barbara finds out A.R.G.U.S. was there all along. Jason (by Curran Walters, Red Hood with Crane, realizes he's wrong and leaves Crane. He serves a crucial role in helping the Titans gain access to Wayne Manor.
Donda 2 Kanye West New Album 2022: Release Date, Tracklist, Features & More
Luckily, the superhero team is successful in saving Gotham!
With their problems in Gotham wrapped up, the team, including Donna, Blackfire, Jason, and Tim, go on a road trip back to San Francisco to heal and reconnect with each other after being somewhat apart the whole season. As the story instead ends on a cliff-hanger, we can expect a whole lot of fun in the upcoming season.
So are you excited for a new series of thrilling adventures in Gotham?